Chart of the Month - How 2019 Volatility Stacks Up Against Prior Years
Published on
Just when we were getting used to some tranquility in the markets, U.S.-China trade tension reared its head again. While nothing compared to the dramatic volatility of late-2018, the chart below illustrates the recent pop in the VIX Index.
VIX Index - Year-to-Date 2019 through May 8th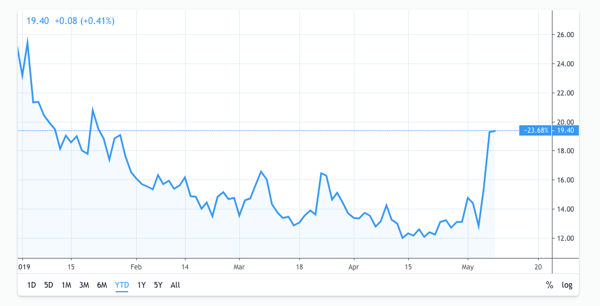 Source: https://www.tradingview.com/symbols/CBOE-VIX/
How does 2019's levels of volatility, or lack thereof, compare to the year-to-date volatility of previous years? If you look at four of the most well-known equity indices, the S&P 500, Nasdaq, DJIA and Russell 2000, market volatility in 2019 has been lower than the past five years, with the exception of 2017. The bar graph below represents the number of 1% or greater prices swings through May 8th during the previous five calendar years.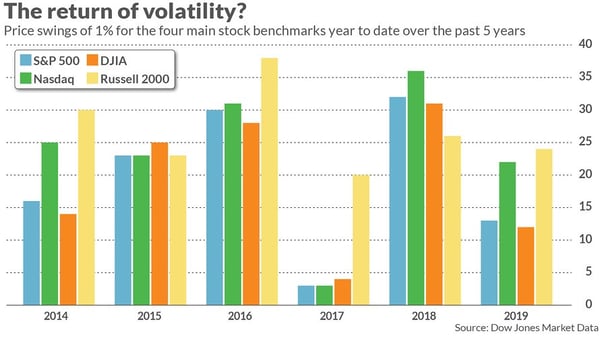 Source: https://www.marketwatch.com/story/stock-market-volatility-gyrations-in-2019-pale-next-to-past-years-2019-05-08?mod=markets


With this in mind, it's probably a sound idea to talk to clients about ways to try to limit potential volatility within their portfolios, especially within their equity exposure which is inherently more volatile than other asset classes. Since many volatility spikes also correlate with market selloffs, taking steps to limit the downside in equity allocations is also a worthwhile exercise.
---
The links above open new windows that are not part of www.danafunds.com.