ESG: Investor Engagement is Getting Energy Firms to Walk the Talk
Published on
Incorporating environmental, social and governance (ESG) factors into investment analysis can identify risks and opportunities in the market. But investors desiring to improve the world around them must go a step further. Engaging with companies to address ESG issues plays an important role in creating a sustainable future.
This year, we've been impressed by progress on the engagement front, as key shareholder initiatives driven by Dana and other investors will force transparency at one of the world's largest energy firms: Exxon Mobil. This blog looks at that engagement effort, and its implications.
A Summer of Change
This summer, a successful proxy battle led by Engine No. 1 resulted in the installation of three directors on Exxon's board who will drive the company to reduce its carbon footprint. The board changes drew national attention and indeed represent significant progress, but two other initiatives in which Dana was directly involved will encourage transparency in an area where oil firms have traditionally subverted climate issues: lobbying and trade associations.
The first proposal asks Exxon to prepare an annual report that discloses its policies and procedures around direct and indirect lobbying and grassroots lobbying communications. It also asks Exxon to disclose payments for direct and indirect lobbying, including who the payment was to, and the amount. In addition, the shareholder resolution requests that Exxon share its membership and payments to tax-exempt organizations that draft model legislation, and provide a description of management and the board's decision-making process around lobbying contributions.
Dana co-filed this proposal yearly from 2017 through 2020, and we have been encouraged to see it progressively gain support, garnering 27% of shareholder votes in 2017, climbing to 37% in 2019, and now passage with 55% of the vote this year.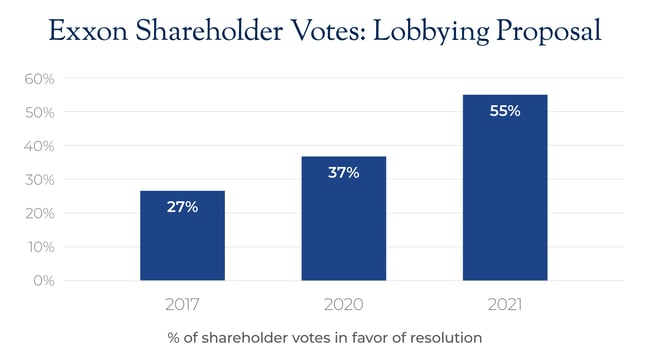 This year we voted in favor of the proposal, but did not co-file. Rules limit shareholders to co-filing only one proposal per company per year and with the lobbying disclosures gaining traction, we instead co-filed a separate proposal that was more specific to climate disclosure.
That proposal requests that Exxon issue a report specifically describing how its lobbying activities – both direct and through trade associations – align with the goal of limiting average global warming below the 2-degree Celsius threshold set as the Paris Climate Accord's goal. As the proposal explains, "of particular concern are trade associations and other politically active organizations that speak for business but too often present forceful obstacles to progress in addressing the climate crisis." That resolution also passed, with shareholder approval of 64%.
Although shareholder proposals are non-binding, we believe the passage of these proposals in tandem will prod the company – which has expressed outward public support for a carbon tax and select other climate-friendly initiatives – to better align its political and lobbying efforts with this public position. In short, it's a step toward making sure an oil company "walks the talk" when it comes to climate goals.