ESG: Is It About Politics?
Published on
Is there a concern that ESG puts a political lens on which investments we make? The concern is real, as both regulators and pension funds have attempted to dissuade investors from accounting for ESG factors by politicizing the issues involved. We believe there is resilience to be gained from monitoring ESG factors, and politics have nothing to do with it.


Regulators & Pension Funds Bring Politics into ESG
From 2008 through 2020, the Department of Labor (DOL) proposed and amended guidelines regarding reporting requirements for retirement fund fiduciaries. Within ESG investing, there is some debate over whether ESG factors are appropriate for consideration by retirement plan fiduciaries. The DOL's guidance on ESG investing has evolved from its 2008 statement discouraging the integration of nonfinancial factors to its 2015 guidance citing these factors as viable financial considerations. In 2018, the DOL added a note of caution, stressing that "fiduciaries must not too readily treat ESG factors as economically relevant."
In 2020 that guidance seemed to disallow ESG investments, requiring that most investment decisions be based solely on "pecuniary factors," or factors "expected to have a material effect on the risk and/or return of an investment based on appropriate investment horizons consistent with the plan's investment objectives and the funding policy . . . ". In addition, the 2020 Rule, as it came to be called, removed the earlier requirement that fiduciaries vote all proxies, and in some cases it said their duty was to abstain. The 2020 changes also banned retirement plan fiduciaries from voting to advance social or political goals unless they vote "solely in accordance with the economic interests of the plan."
These Trump administration changes to Obama-era policies altered once again when the Biden administration DOL issued a non-enforcement policy for the 2020 Rule, then expanded upon the previous guidance to assure managers of ESG's materiality, assuring them that prudent investment considerations include "The projected return of the portfolio relative to the funding objectives of the plan, which may often require an evaluation of the economic effects of climate change and other environmental, social, or governance factors on the particular investment or investment course of action." Not only that, the DOL specify three examples of factors that are "material to the risk-return analysis," and they relate to E,S, and G.1
ESG: Is It Left Wing Propaganda?
All of this is preamble to the present day, with some conservatives claiming that ESG investing is part of a left-wing agenda.2 As nearly two dozen Republican governors and their administrations reacted to potential ESG investments by their pension funds, some states have been exposed to environmentalist concerns for many years. West Virginia's state treasurer is preparing a list of banks that will not get the state's business unless they publicly state that they won't boycott coal. Utah's treasurer calls ESG "wokeness run amok", and former VP Mike Pence said at a recent energy conference that large investment firms are furthering "a radical ESG agenda." Meanwhile, the SEC has adopted its first regulations on greenhouse gas reporting, but not without protest from the agency's only Republican Commissioner. ESG investing, just as it is reaching the mainstream, is now at risk of becoming part of the culture wars that have polarized much of the U.S.
Dana's Approach: Client-Driven & Apolitical
At Dana, we see ESG as separate from any political stance. When you invest with us, we listen to you to determine risk tolerance, time horizon, and all the factors any responsible asset manager should find out before investing your hard-earned money. We then apply our disciplined process, developed over many years. That process includes many factors. Our data game is strong! And instead of eliminating potential companies, we rank them. No cancel culture — our CEO Mark Mirsberger likes to say the investment spreadsheet is as wide as he can spread his arms. We include ESG factors in our analysis because, as you may have read here before, we think long-term about what we buy. These are not short-term trades, they are investments. As such, we feel obliged to consider every factor we can track that is material to how the business is run, and that includes its environmental, social and governance policies. They help us determine the companies' resilience, as the world is constantly changing, and our knowledge of climate, DEI and corporate governance must evolve as well. We don't see that as political, we see it as prudent business practice. It has also proven successful over our many years in business.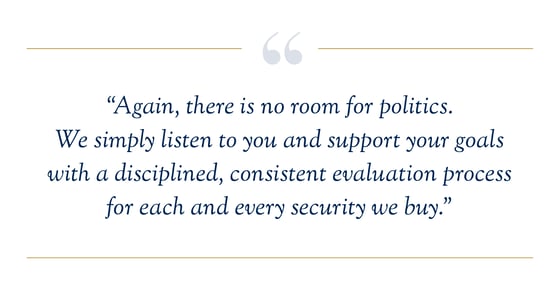 Sometimes we have clients like our famous original ESG investors, the nuns, who want to eliminate certain industries or companies based on their beliefs. We took over the Epiphany Fund, which is a faith-based vehicle, because of our expertise in guiding investments in this way. Again, there is no room for politics. We simply listen to you and support your goals with a disciplined, consistent evaluation process for each and every security we buy.


Schedule a call to learn more about all the data that goes into each purchase at Dana Investments. It's your money, and we will work with you to invest it wisely.