Start 2022 Off With These ESG Questions
Published on
The end of the year or beginning of the new one is a natural time for clients, advisors, and consultants to discuss portfolio goals. Given growing interest in ESG investing, this is a topic that is bound to come up in many conversations.
But the motivations, ambitions, expectations, and even the basic conceptions of ESG tend to vary from one investor to the next. If you're heading into the end of the new year and want to further the ESG dialogue, we encourage you to use our new questionnaire to help guide the discussion.
It can help provide an overview of what ESG is investing and could help you decide if this is an appropriate investment. Below are a few sample questions from the full 15-question list.
If it seems like something that you may be interested in, we encourage to download the full questionnaire.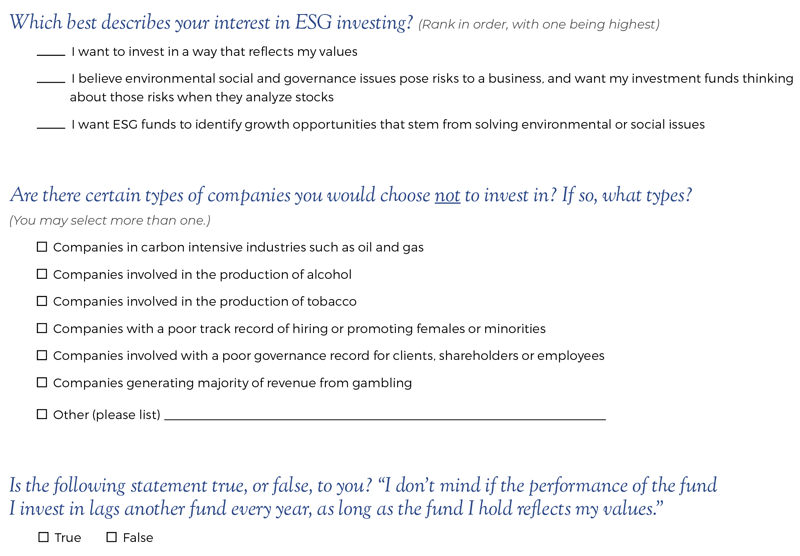 ESG Investing: Environmental, Social and Governance (ESG) investing may take into consideration factors beyond traditional financial information to select securities, which could result in relative investment performance deviating from other strategies or broad market benchmarks, depending on whether such sectors or investments are in or out of favor in the market. Further, ESG strategies may rely on certain values based criteria to eliminate exposures found in similar strategies or broad market benchmarks, which could also result in relative investment performance deviating. There is no assurance that employing ESG strategies will result in more favorable investment performance.