Defining Faith-Based Investing
Published on
"Among us, who is above must be in service to others. This doesn't mean we have to wash each
other's feet every day, but we must help one another."
-Pope Francis
What do we want to accomplish with our time here on Earth? What impact do we want to have on society? How do we want to help shape the future for the generations that follow? Mankind has asked itself these philosophical questions for ages. Their emerging importance in the form of environment, social and governance (ESG) investing or sustainable, responsible and impact (SRI) investing is a relatively more recent phenomenon.
ESG investing began in the 1960s as a means of denying capital to the racist, segregationist apartheid government in South Africa and has grown from a niche strategy into a $20 trillion market. Clearly, today's investors want their investments to matter. Returns are as important as ever, but so are impact issues like human rights, product safety and climate change.
The US SIF has a robust education center on their website which includes a page dedicated to the Basics of SRI1 which included a nice graphical representation of common ESG criteria.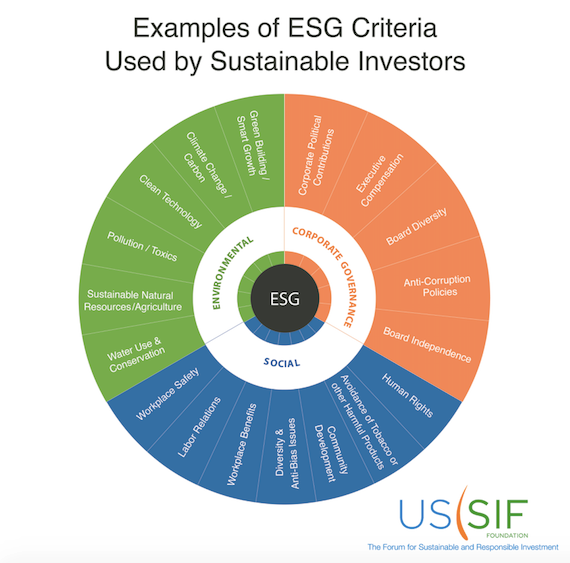 Image Source: US SIF Foundation
There is a symmetry to the advocacy of the ESG investment community and the advocacy of faith-based communities, of which there are many. Each faith-based philosophy may have nuances that differentiate them. Many employ negative screening techniques and/or positive screening approaches. See the table below for an overview of a few common faith-based investment strategies and some of the screening criteria they contemplate.
NEGATIVE SCREENING STRATEGIES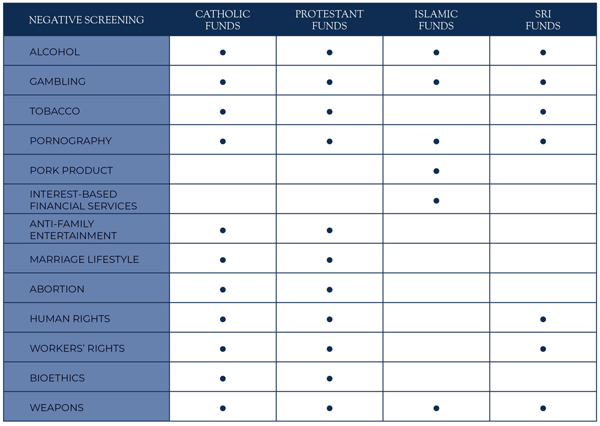 In 2003, the United States Conference of Catholic Bishops (USCCB) established guidelines for the Catholic stewardship of financial resources. These guidelines included: the protection of human life and human dignity, economic justice, and environmental protection.
Catholics are called to serve. As investors turn their attention to using their investment dollars to help mankind, they may want to align their interests with their church and the philosophies of their faith. More dollars impacting the world for the greater good, is an outcome all responsible investors can appreciate. As the industry continues to grow and mature, faith-based strategies may play a much larger role.
At Dana, we have been investing with ESG and faith-based philosophies since 2000. To provide financial advisors and individual investors with access to these strategies, we recently launched a mutual fund vehicle. To learn more about our ESG Epiphany Fund, click here.
If you would like to be notified when we release new market insights, please fill out the form on the right, "Stay up to date with current market trends," and we will send you an email.


---
1https://www.ussif.org/sribasics
The links above open new windows that are not part of  www.danafunds.com. 
The Dana Funds are distributed by Unified Financial Securities, LLC. There is no affiliation between Unified Financial Securities, LLC. and the firms referenced in this blog post.