Q&A: ESG Investing
Published on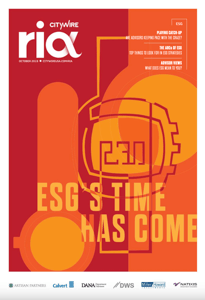 The October issue of Citywire RIA Magazine has hit the newsstands and they released an RIA Supplement titled, "ESG's Time Has Come." Environmental, social and governance (ESG) investing seems to be a hot topic recently, but many advisors are not up to date with the ins and outs of ESG investing.
As part of the supplement, Dana submitted an article answering many questions that advisors have about ESG Investing. Questions include:
What advice would you have for advisors who are looking to get into this space or deepen their ESG Investing toolkit?
ESG Strategies have become popular. Why is this?
What's your approach to ESG Investing? How does it differ from competitors?
What funds do you offer? Are they all ESG funds?
How do you see the future of ESG playing out? Is it going to become more mainstream and just a regular part of how people invest?
Dana's Senior Vice President, Lydia Miller, answered these important questions. To read the article, click to page 4 here.
---
The links above open new windows that are not part of  www.danafunds.com. 
Given the significant differences between separately managed accounts and mutual funds, investors should consider the differences in expenses, tax implications and the overall objectives between separately managed accounts and mutual funds before investing. Past performance of the strategy/separately managed account is not indicative of future performance of the fund.