Who's Winning? Strategic Versus Tactical Investors
Published on
Although volatility hasn't been as pronounced as in past years (we recently penned a blog on this, "Chart of the Month – How 2019 Volatility Stacks Up Against Prior Years"), trade tensions and concerns over a slowing U.S. economy have caused enough concern for more-tactical investors to take some money off the table. One investor group in particular that has trimmed its long equity exposure is hedge funds.
Hedge funds typically employ nimble, tactical investment strategies, relying on portfolio managers' experience and expertise or specific indicators to determine when to increase exposure in their long or short books. While these funds' short positions and relative lack of equity beta (compared to a strategic long-term, long-only equity investor) was beneficial during 2018's fourth-quarter selloff, the majority of hedge funds then missed out on the first quarter's rally.
The below graph illustrates how hedge funds (grey bars) have performed each quarter relative to the MSCI World Index over the past five years. Overall, investors would have been much better off having been invested in a long-only basket of stocks rather than the hedge funds that make up the HFRX hedge fund index. The only notable exceptions are two specific quarters, marked by green arrows, where the market sold off sharply.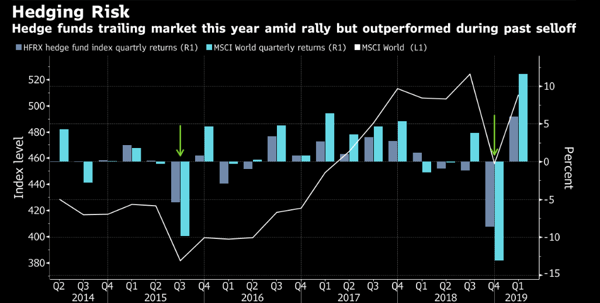 Source: Bloomberg.com
Hedge fund's relative underperformance was especially pronounced in the first quarter of 2019, which saw global equity indices added $10 trillion in value.1 "Hedge funds that focus on equities climbed 6 percent in the first quarter, according to Hedge Fund Research, compared with a 13 percent gain in the S&P 500."2 Moving forward, if 2019's rally continues, it will be interesting to see if hedge funds cover some of their short positions and increase their net exposures, which could provide additional support for equity markets.
1,2https://www.bloomberg.com/news/articles/2019-04-05/whoever-is-behind-the-stock-market-rally-it-s-not-hedge-funds
The links above open new windows that are not part of www.danafunds.com.