Exxon Proxy Vote Marks Inflection Point for ESG
Published on
In May, an activist investment firm won three seats on Exxon Mobil's board, marking one of the most expensive, and most closely watched, proxy fights in America. It was a big victory for a small activist investor owning only a fraction of Exxon's total shares.
It also marked a victory for ESG investors. The activist firm, a hedge fund called Engine No. 1, relied on ESG-friendly institutional investors and ESG fund managers to secure enough votes to elect the new board members, who will encourage Exxon to pivot its business away from fossil fuels.
Dana played a role in the changes, voting for the new board members and even co-filing a separate shareholder resolution asking for more transparency on Exxon's lobbying practices. (That proposal also passed last month.)
In a recent conference call with clients and prospects, Dana portfolio managers David Weinstein and Duane Roberts reflected on the vote and the inflection point the ESG movement has reached in effecting positive change at companies. A brief summary of their comments on the call follows:
Duane Roberts: We have been engaging with companies for a long time, but the playing field in proxy votes has always been slanted in favor of management. Now that is really shifting. In the last couple of weeks in this proxy season, you're seeing more shareholder [environmental] resolutions pass than I think we've seen in any year prior, and we still have quite a bit to go.
I know on the energy side in terms of climate change we've already had more successful shareholder resolutions this year than in any prior year. I think things have changed in that investors are asking their asset managers to pay attention to these factors, to pay attention to proxy voting in a different way, to think about the long-term impacts of corporate behaviors and corporate strategies. It's really starting to show up in the success of shareholder resolutions. It's one step, and it's a very positive step forward, but we're going to have to keep the pressure on to make sure that corporate management is following through on requests from shareholders.
David Weinstein: There's been a lot of pressure on energy companies in the U.S. but even more so in Europe. The big U.S. companies - Exxon, Conoco, Chevron - they've been talking a little bit about carbon taxes, carbon sequestration, and items such as that. The European companies, Total, and especially BP, are investing aggressively in renewables. They are becoming utilities to a certain extent, producing solar wind projects or renewables.
All of a sudden [European management teams] are saying, "We're going to transition half our capital expenditures away from fossil fuels by 2030, to build solar and wind farms." We could probably see some U.S. companies start doing things like that.
Duane Roberts: Exxon has been making the right public statements for a long time, but many of their actions don't seem to align with it. David mentioned how some of the capital budgets of the more aggressive European energy companies have shifted away from fossil fuel related projects. That's an area where we believe Exxon has really failed investors. Their capital spending plans are still substantially tilted toward long term fossil fuel projects that we think are high risk.
To learn more on where the field of ESG is headed, we encourage you to watch a replay of our May 2021 webinar. Available below.





The discussion of individual companies should not be considered a recommendation of such companies by the Fund's investment adviser.
DANA LARGE CAP EQUITY FUND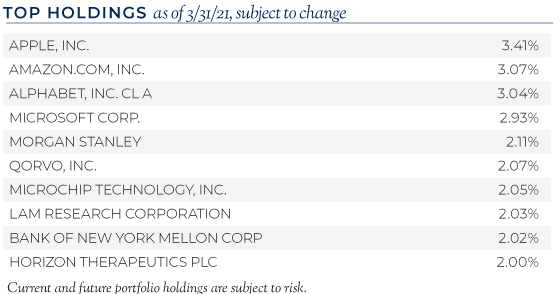 DANA EPIPHANY ESG SMALL CAP EQUITY FUND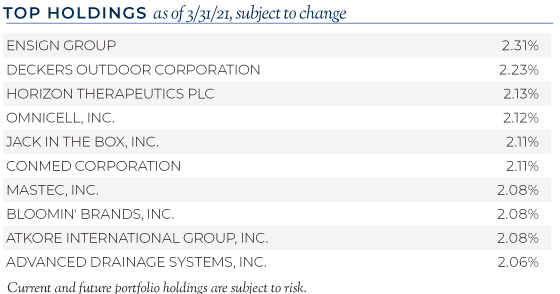 DANA EPIPHANY ESG EQUITY FUND