A Decade in Review - The Effects of Climate Change
Published on
As part of a 3-part blog series covering the most memorable changes from the 2010s, our 2nd post covers the effects of climate change. If you are interested in reading the first part in this Decade in Review series, Central Banks Take the Wheel, please see link below.
Climate Change
In mid-November the city of Venice, Italy experienced its worst flood in over fifty years. Fueled by rising ocean waters, drudged canals and 75 mile-per-hour winds, the brackish waters of Laguna Veneta rose six feet above normal levels, flooding over 80% of the city. The flood waters caused an estimated $1.1 billion in damages. Included in that estimate is considerable damage done to St. Mark's Cathedral whose crypt flooded for the first time since 1966.
The Venice floods were perhaps a fitting (if not surprising) closure to a decade that witnessed the increasing environmental and economic impacts of our changing climate. Over the last ten years we have experienced seven of the warmest years on record. (See table below).


Top 10 Warmest Years




(1880 - 2018)


Source: NOAA
Higher temperatures fueled 18 category 4 and 5 hurricanes in the 2010s which caused an estimated $300 billion in damages. Our planet's decade of warming also led to accelerated glacier melt. 200 billion tons of ice fall into the ocean annually, a rate that is triple that of ten years ago and leads to a half-millimeter annual rise in ocean levels. Antarctica alone lost 219 billion tons of ice per year from 2012-2017. (See picture below).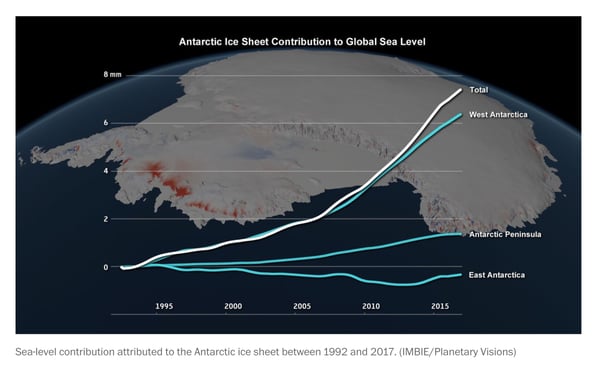 At Dana we believe in environmental stewardship. Our Social, Catholic and Carbon Sensitive environmental, social and governance (ESG) strategies are managed with consideration given to a company's climate change impact and environmental policies. We vote our proxy for proposals to adopt quantitative renewable energy goals, that limit global warming to 2°C and adopt active recycling strategies. If you are interested in learning more about our ESG strategies, please contact us.